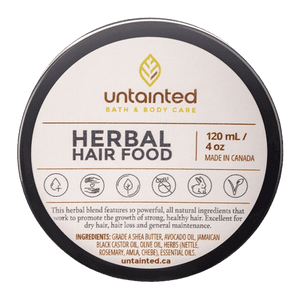 Herbal Hair Food Oil
Meet the "green smoothie" for your hair! Our Hair Food Oil is an expertly curated blend of over seven natural oils, designed to lavish your locks with everything they need for robust growth. Enriched with essential vitamins and Omega fatty acids, this premium formulation stimulates blood circulation to your scalp, ensuring that your hair follicles are brimming with nourishing goodness. Think of it as farm-to-follicle food for your hair!
Features You'll Love:
Multi-Vitamin Boost: Loaded with essential Vitamins A, B, E, and Omegas 3, 6, 9 for a comprehensive nutrient profile.
Root to Tip Treatment: Stimulates blood flow to the scalp, delivering key nutrients right to your hair follicles.
Global Goodness: Specially created with Jamaican Black Castor Oil and Raw Unrefined Grade A Shea Butter from Ghana.
Chemical-Free: Absolutely no synthetic fragrances, colors, dyes, or parabens—just pure, natural ingredients.
Handmade Quality: Each bottle is hand-mixed with the finest oils and plant butters, ensuring a high-quality product in every drop.
Who Is It For & How To Use:
This Hair Food Oil is suitable for anyone aiming to strengthen their hair and stimulate healthy growth. Whether you have curly, straight, or wavy hair, this multi-nutrient oil can be your go-to solution.
Directions:
Apply a moderate amount to the scalp and hair, focusing particularly on the ends or any dry areas. Massage gently using your fingertips. For best results, use after washing and conditioning your hair, or add it to your favorite conditioner for a moisture boost.
Ingredient Transparency:
We believe that you have the right to know what you're putting on your hair. That's why we're upfront about our ingredients, which include high-quality oils and plant butters such as Jamaican Black Castor Oil and Raw Unrefined Grade A Shea Butter from Ghana.
Size: 120ML
Revitalize your hair today with the premium nourishment it deserves—order your bottle of Hair Food Oil now!