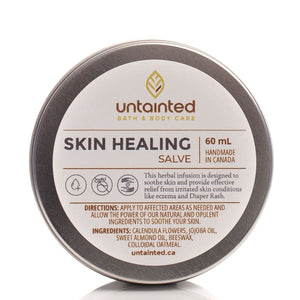 Skin Healing Salve
Find solace from various skin issues like eczema, diaper rash, and more with our Natural Skin Healing Salve. A synergistic blend of five potent, organically-sourced ingredients forms this gentle yet effective formula. Experience the time-tested benefits of herbal infusion as Calendula flowers soak in Jojoba oil for a minimum of six weeks, releasing their skin-loving properties.
Key Features:
Calendula Flowers: Also recognized as Marigold flowers, these have been traditionally employed for centuries to naturally treat skin issues like inflammation, rashes, and burns.
Jojoba Oil: Lightweight and quickly absorbing, this oil is infused with Calendula petals for at least six weeks, allowing the healing properties of the plant to permeate the oil.
Sweet Almond Oil: This oil functions as a natural anti-inflammatory moisturizer, packed with vitamins A and E and also fortified with antibacterial attributes.
Beeswax: More than a simple moisturizer, beeswax is revered for its antiviral, anti-inflammatory, and antibacterial characteristics.
Colloidal Oatmeal: Derived from finely ground oats, this ingredient houses natural phytochemicals that alleviate skin itching and irritation.
Purity Guaranteed:
Our Natural Skin Healing Salve is handmade with only five organic ingredients. We proudly uphold a commitment to a fragrance-free and synthetic-free formula, devoid of any artificial colors, preservatives, or steroids.
How to Use:
Apply a small amount of the Natural Skin Healing Salve to the affected area. It's best to apply the salve after bathing and before bedtime to help lock in the moisture and maximize the healing process.
Learn about the potent, all-natural relief your skin has been yearning for. Add our Natural Skin Healing Salve to your skincare routine today!
Lightweight and great for tattoos!
The ingredients list drew me to this product as I have a massive leg sleeve tattoo that is currently healing and I was looking for a product more moisturising than lotion. I found it in this skin healing salve. It goes on lightweight, it's unscented, and a little goes a looong way. Super budget friendly too. I'm glad I bought two tins! Highly recommended!