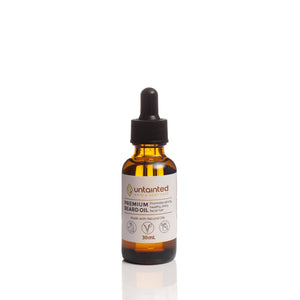 Beard Oil
Access the secret to a well-maintained beard with our Organic Beard Oil, created to provide optimal conditioning, softening, and nourishment for your facial hair and the skin beneath. Paired with a premium Beard Grooming Kit, achieving your dream beard has never been easier.
Key Features:
Fractionated Coconut Oil: A light, non-greasy conditioner that moisturizes your beard and leaves it feeling soft and manageable.
Jojoba Oil: Known for its similarity to the skin's natural oils, it provides deep hydration without clogging pores.
Sweet Almond Oil: Rich in vitamins and nutrients, this oil conditions and softens, while treating dry skin underneath the beard.
Essential Oils: Adds a subtle, natural aroma for sensory pleasure.
Vitamin E Oil: A powerful antioxidant that promotes skin health and protects against environmental damage.
Quality Assured:
100% Organic Ingredients
Suitable for all beard types
Light and non-greasy formulation
Vegan and cruelty-free
Included Beard Grooming Kit:
Comb: Designed for smooth detangling, helping you style your beard effortlessly.
Scissors: High-quality scissors for precise trimming, allowing you to achieve your desired beard shape.
How to Use:
Place a few drops of Organic Beard Oil into your palm.
Warm the oil between your hands.
Apply generously into your beard, making sure to reach the skin.
Use the included comb for detangling and styling.
Optional: Use scissors for precise trimming and shaping.
Enhance your beard care routine with our Organic Beard Oil and included grooming tools. Give your beard the attention it deserves!