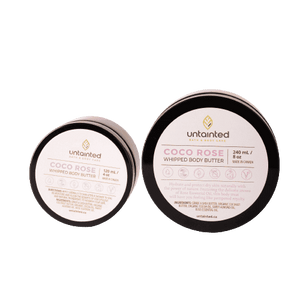 Enrich your skin in the velvety richness of our Coco-Rose Luxe Whipped Body Butter, a sumptuous treat blended with the celestial aroma of Rose Essential Oil. Better your skincare ritual to an exquisite experience of self-care, as this plush formulation revitalizes and caresses your skin.
Noteworthy Advantages:
Moisture Maximizer: Provides unparalleled hydration to alleviate parched skin.
Visual Improvement: Aids in diminishing the visibility of blemishes like scars and stretch marks.
Artisan Craftsmanship: Formulated with sustainably sourced, organic ingredients.
Unadulterated Purity: Zero inclusions of artificial colors, fragrances, or hazardous substances.
Ethical Choice: Fully vegan and never subjected to animal testing.
Target Audience & Utilization:
Tailored for the unique needs of families of mothers, fathers, and youngsters. This opulent body treat enhances your daily skincare regimen. To relish its comprehensive benefits, smother your skin post-shower, locking in moisture and inviting nourishment.
Utilization Instructions:
Post-shower, lavish your skin with a generous layer of this whipped delight. Work it in, focusing on parched areas, until your skin has absorbed all the goodness.
Components:
Conceived for your well-being, the Coco-Rose Luxe Whipped Body Butter incorporates a curated blend of nourishing elements. It features Raw Shea Butter for unparalleled moisture, Cocoa Butter for supple softness, Organic Coconut Oil for a hydration boost, Sweet Almond Oil for vital nutrients, and Rose Essential Oil for that heavenly aroma. A recipe for your skin's delight, free from any compromises.

Miracle cream
This will change your life ❤️