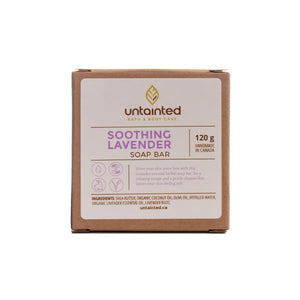 Soothing Lavender Soap Bar
Evolve your daily cleansing routine into a tranquil spa experience with our Scented Lavender Soap Bar. Lovingly handmade with the finest natural oils and organic lavender essential oil, this soap delivers a gentle, revitalizing cleanse while enveloping your senses in calming lavender. Leave stress behind and partake in the pampering lather that turns your shower into a peaceful retreat.
Key Benefits for Glowing Skin:
Relaxing Aromatics: Organic Lavender Essential Oil provides a calming scent that soothes the mind.
Gentle Cleansing: Shea Butter and natural oils deliver a invigorating cleanse suitable for both face and body.
Ethical Beauty: Made from plant-based ingredients for a cruelty-free and vegan-friendly skincare experience.
Chemical-Free: Absolutely no synthetic dyes, ensuring a pure and natural cleanse.
All-Skin Welcome: Formulated for all skin types, offering universal care.
Who Should Use It & How:
Ideal for anyone seeking to upgrade their skincare routine with the potent benefits of natural ingredients and the calming aroma of lavender. This soap is especially suitable for busy individuals who yearn for a quick yet pampering escape from the daily grind.
Directions:
Wet the soap bar and lather it up in your hands. Apply the frothy goodness to your face, body, or wherever you desire a gentle cleanse. Rejuvenate your skin and soak in the serenity that each lavender-scented bubble brings.
Transparent Ingredients for Peace of Mind:
Formulated with uncompromising quality, our soap includes Shea Butter, Organic Coconut Oil, Olive Oil, Distilled Water, Organic Lavender Essential Oil, and real Lavender Buds for an authentic experience.
Boost your skincare ritual with the healing and tranquilizing essence of our Scented Lavender Soap Bar. Click "Add to Cart" and unwind in lavender luxury today!