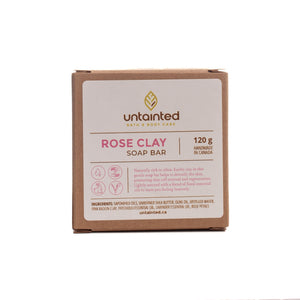 Rose Clay Soap Bar
Consume yourself in a decadent bath experience with our Scented Rose Clay Soap Bar, designed with love and infused with natural ingredients to detoxify, renew, and uplift your skin. This soap features the natural goodness of Pink Kaolin Clay and a medley of aromatic floral essential oils for an unparalleled cleansing experience.
Key Features:
Pink Kaolin Clay: Known for its silica-rich composition, this clay aids in detoxifying your skin, promoting cell renewal and regeneration.
Patchouli Essential Oil: This woody, earthy essential oil adds depth to the fragrance while offering soothing skin benefits.
Lavender Essential Oil: Renowned for its calming and relaxing effects, Lavender also adds antiseptic and anti-inflammatory properties to the blend.
Shea Butter: Our Unrefined Shea Butter serves as a rich, revitalizing emollient, providing deep hydration.
Rose Petals: Not just a decorative element, Rose Petals help in toning and enhancing your complexion.
Quality Assured:
Suitable for face and body
Handmade with Shea Butter and Natural Oils
Ideal for all skin types and ages
Colored with natural substances; completely dye-free
Scented with only essential oils; no synthetic fragrances used
How to Use:
Moisten your face and body.
Gently apply the Scented Rose Clay Soap Bar directly onto your skin or create a lather in your hands.
Massage the soap onto your skin in circular motions.
Rinse thoroughly and pat dry.
Treat your skin to the replenishing and detoxifying benefits of our Scented Rose Clay Soap Bar. Boost your skincare routine today!