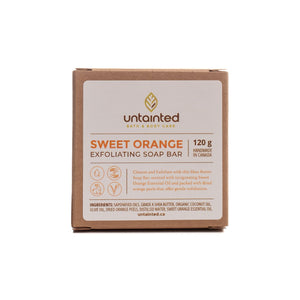 Sweet Orange Soap Bar
Unearth a bathing experience that's a treat for your senses and your skin. Our Scented Sweet Orange Soap Bar offers a two-in-one solution that cleanses and exfoliates while leaving behind a delightful citrus aroma. Handmade with love, this soap bar is designed using the finest natural ingredients that work in synergy to promote healthy, glowing skin.
Unbeatable Features for Ultimate Skincare:
Citrus-Powered Exfoliation: Dried orange peels offer a gentle scrubbing effect, revealing a fresher layer of skin.
Deep Moisture: Shea butter and organic coconut oil provide lasting hydration, leaving your skin soft and supple.
Pure and Natural: No dyes, no synthetic fragrances—only the revitalizing scent of real Sweet Orange Essential Oil.
Multi-Functional: Ideal for both your face and body, so you get complete skincare in one package.
Compassionate Choice: We are committed to cruelty-free practices and vegan formulations.
Who This Soap Bar Is For & How To Use It:
This scented soap bar is perfect for anyone looking for a rejuvenating, natural, and ethical skincare solution. Great for daily use on both face and body.
Directions:
Wet the soap and create a lather in your hands or on a washcloth. Apply generously to your face and body, focusing on areas that need a good scrub. Rinse thoroughly and enjoy the refreshing scent and feel.
Ingredients You Can Trust:
We are transparent about what goes into our soap: Grade A Shea Butter, Organic Coconut Oil, Olive Oil, Dried Orange Peels, and Distilled Water, brought to life with Sweet Orange Essential Oil.