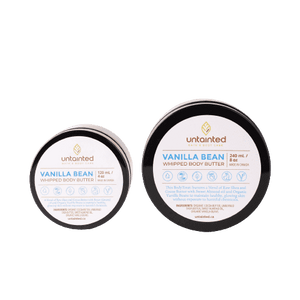 Vanilla Bean Whipped Body Butter
Gratify your senses and nurture your skin with our Scented Vanilla Bean Whipped Body Butter, specially formulated for black mothers and families who demand the very best. This luscious cream combines Raw Shea and Cocoa Butter, Sweet Almond oil, and Organic Vanilla Beans, resulting in an irresistible, edible aroma and touchable softness for you and your little ones.

Key Benefits:
Intense refreshment: Say goodbye to dry, flaky skin with our deeply moisturizing formula.
Scar & Stretch Mark Minimizer: Works diligently to lessen the appearance of scars and stretch marks.
Quality You Can Trust: Handmade from four premium, organically sourced ingredients.
Uncompromised Purity: Zero synthetic fragrances, dyes, or harmful chemicals.
Ethical & Inclusive: 100% Cruelty-Free and Vegan, suitable for all skin types and ages.
Who It's For & How to Use:
Produced with love and integrity, this body butter is perfect for black mothers and their children. Experience the tranquility that comes with knowing you're using a safe, effective product on both your skin and your child's. To release its full potential, apply generously to the skin after showering. This will seal in moisture and deliver the enriching benefits of our all-natural ingredients. As always, perform a patch test on a small area of the skin to ensure there are no adverse reactions.