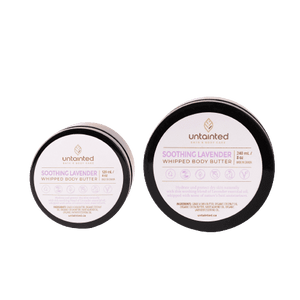 Soothing Lavender Whipped Body Butter
Immerse yourself in the elegant caress of our Soothing Lavender Scented Whipped Body Butter, exquisitely formulated to address the unique skincare needs of black mothers and their little ones. enriched with the natural goodness of raw Grade A Shea Butter and a symphony of organically sourced oils, this body butter is more than just a moisturizer; it's a sanctuary for your skin.
Key Benefits:
Intense Moisture: revitalize and quench dry, thirsty skin with the deep-moisturizing properties of Grade A Shea Butter and organic oils.
Scar & Stretch Mark Minimization: Experience the power of natural ingredients that help fade the appearance of scars and stretch marks.
Authentic & Handmade: Lovingly developed by hand using organically sourced ingredients for unmatched quality and effectiveness.
Safe & Gentle: Free of synthetic fragrances, dyes, or harmful chemicals, ensuring peace of mind for you and your little ones.
Ethically Sourced: Not just Cruelty-Free and Vegan but sourced from responsible suppliers committed to sustainability.
Intended for & Usage:
Designed with love for mothers and their children, this Soothing Lavender Whipped Body Butter is perfect for those who wish to pamper their skin without compromising on safety or efficacy. Safe enough for mom's skin and gentle enough for the tender skin of babies, this body butter is an all-in-one family skincare solution.
Directions:
Apply liberally to skin after a shower to seal in moisture and allow the opulent blend of natural ingredients to nourish your skin. As a precaution, we recommend doing a patch test on a small area of skin to check for any adverse reactions. Immerse yourself and your child in the gentle embrace of nature with each application.
Love this Body Butter
I am absolutely in love with this butter! The scent is not overwhelming, and your skin gets a natural glow after consistent use. Plus, it keeps you moisturized all day long...need I say more??
Loving the lavender
Excellent product. I love the smell and texture of the body butter. It has helped with my eczema and leaves my skin soft and smooth.