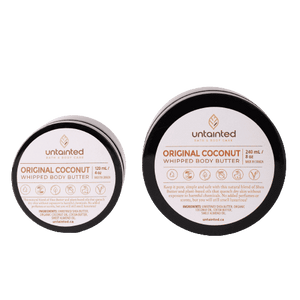 Original Coconut Whipped Body Butter
Relish in a skincare experience that's as pure as it gets with our Unscented Original Coconut Whipped Body Butter. Expertly formulated with Shea Butter and a blend of plant-based oils, this opulent treat drenches your skin in moisture, without any synthetic additives or harmful chemicals. Even though it's unscented, its natural ingredients give off a faint, heavenly aroma you're sure to love.
Outstanding Features You'll Adore:
Intense Moisture: Say goodbye to parched skin—this is your hydration haven.
Skin Revitalizer: Targets scars and stretch marks, paving the way for even-toned skin.
Wholesome Goodness: Handmade with ingredients you can trust—organically sourced and purely beneficial.
Chemical-Free: No synthetic fragrances, colors, or additives—your well-being is our priority.
Ethical Choice: Our product is not only vegan but also cruelty-free.
Who Is It For & How To Use:
Perfect for individuals who seek an unscented, potent moisturizer safe for all age groups, including children. The nourishing blend is an excellent choice for skin-sensitive users, including expectant mothers.
Directions:
Apply generously to your skin following a shower. Massage into the skin, allowing the rich ingredients to lock in moisture and provide lasting nourishment.
Ingredients for Transparency:
We believe in full disclosure. Our ingredient list is simple and straightforward: Unrefined Shea Butter, Organic Coconut Oil, Cocoa Butter, and Sweet Almond Oil. We pick only the best, so you experience the best.
Simply wonderful!
I can't live without my this product :)